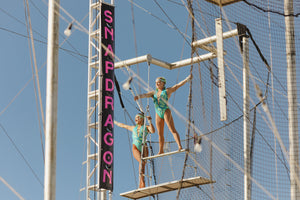 Become a sponsor & get noticed
40 FEET HIGH IN THE AIR!
The Flying Royals travel world-wide, taking their one-of-a kind rig and performance to the largest, most prestigious fairs, festivals and shows with thousands upon thousands of attendees.
We have the most incredible sponsorship opportunities that range in levels, all packaged and customizable to give your brand one of the most unique marketing opportunities with massive exposure. Both localized & global collaborations available.
With over THOUSANDS of FOLLOWERS on social media + VIRAL VIDEOS with MILLIONS of views + an incredibly loyal and engaged following, you can count on gaining traffic, brand awareness, and click-throughs to your social platforms.